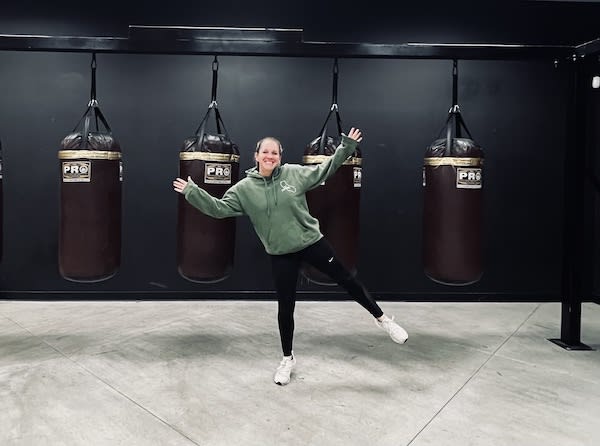 Ericka Howard
Short Version:
CDA is headed by Ericka Howard who has devoted her life to the study of self defense, fitness and human relations. She is well qualified and you will be in good hands training within the California Defense Academy Facility.
Long Version (for those of you that like to read :)
California Defense Academy's head instructor is Ericka Howard. Ericka has been training in the martial arts for the entirety of her life beginning at 3 years old, where she began in a traditional style of karate called Shorin Ryu. She trained in that style for 9 years from 3-12 years old.
Once she earned her black belt in that style of martial arts she began her quest for something more practical. That is when she found Krav Maga. Once she took that first class she knew she had found her passion and decided at 12 years old that her dream in life was to one day, own her own Krav Maga training facility.
She then spent the next 22 years becoming the best self defense practitioner and instructor possible.
Ages twelve to sixteen were spent exclusively training multiple times per week soaking in the Krav Maga mindset, principles, techniques, and mentality.
At sixteen she joined the instructor team as an assistant instructor where she learned all about personal relations, connecting with students and building others up in a way that leaves them, not only as a better practitioner, but with a feeling of confidence and empowerment.
Upon graduating from high school she went to California State University San Marcos to study the field of kinesiology. There she dove into studies about the movement of the human body including: physiological, anatomical and biomechanics principles, and mechanics of motion.
Once mastering being an assistant instructor she began teaching classes of her own; taking her knowledge of body mechanics, self defense and leadership and transferring it to her own students.
It was then time to start a program of her own under another business owner. So a 2,000 mile move across the country and she was no longer in California but in Indiana! There, there was already a Krav Maga training facility with a thriving adult program but no kids program in place. She had the amazing opportunity to start the program from scratch devising her own Krav Maga curriculum, personal development program, and team of instructors. The program grew rapidly and upon successfully building a team, implementing systems and growing the kids Krav Maga community it was time to move back home to her family.
Upon her return to California she reunited with the original Krav Maga training facility where it all began! During this time she began training in Brazilian Jiu Jitsu and continued her studies in the fitness field earning her personal training certification as an ISSA certified personal trainer. After which she put into practice all of her fitness knowledge as a personal trainer at the local 24 hour fitness gym.
Once she really rounded out her skill set of being able to combine the self defense and fitness aspects, instructing on the mat and having the ability to build others up to reach their potential, she was ready to run a facility of her own.
In July of 2016 West Coast Krav Maga Wildomar was opened and the keys handed over. What started off as just Ericka and Mat (as in the training mats) quickly grew into a large, loving Krav Maga community.
That leads us to where we are now! After 22 years of honing in and perfecting her craft; earning her 1st Dan Krav Maga Instructor certification (1 of only 11 women at the time), a Brazilian Jiujitsu Blue belt, and endlessly educating herself through personal experience, books and podcasts we now have California Defense Academy!
We can not wait to welcome you to our Krav Maga family!!